10 Night Itinerary :

Getting to Leon:
At least 7 direct trains a day run from Madrid Chamartin Station to Leon (about 2.5 hours travel time).

Day 1 - LEON We meet at the Posada Regia Hotel in central Leon at 2.30 pm. The hotel is just a short taxi-ride from the train station in the heart of the historic quarter. After checking in, we have a walking tour of the city to explore the old quarter. During the Middle Ages Leon was a major stop for pilgrims on the Camino to Santiago and, as such, accumulated a wealth of art and architectural treasures. We see the magnificent Cathedral with its stained glass windows preserved from the 13th century, the Basilica de San Isidoro with its Pantheon where eleven kings and numerous Spanish queens are buried, and the Casa Botines designed by the quirky architect Antoni Gaudi As capital of the region of Leon y Castile, the city of Leon is surrounded by land producing superb food and the city therefore takes pride in its gastronomy. We sample this at our welcome dinner in a restaurant near our hotel. Dinner included.
Day 2 - ORBIGO TO ASTORGA This morning our private coach takes us from Leon to start our walk at Orbigo. It was here, on the bridge at Orbigo, in 1434, that a knight, Suero, held what may have been the last great medieval tournament. Having been scorned by his lady love, Suero challenged other knights to a joust. Today, if you stand on the bridge and use a little imagination,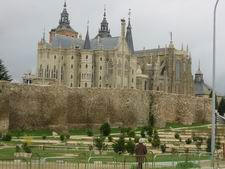 you can almost hear the horses whinny and the clash of steel. As we start to walk, the terrain changes from flat plains to low foothills. The clouds ahead on the horizon soon reveal themselves to be chains of mountains in the distance but the walking is still quite easy. In the afternoon we reach Astorga with its Cathedral built in 1471 and a fairytale Bishop's Palace designed by the eccentric architect Antoni Gaudi which now holds an interesting "Museum of the Camino". There is also a Museum of Chocolate that tells the story of the local chocolate industry which flourished when cocoa was first brought to Spain from the New World. The town still boasts about its great chocolate and there are mouth-watering window displays. Our hotel faces onto the main square and the Gaudi Palace Distance 20 km or 12 km (you choose) Dinner included.
Day 3 - ASTORGA TO VILLAFRANCA Beyond Astorga we begin one of the most historically important parts of the Camino over Mount Irago. Our bus takes us up as far as Foncebadon and from here we ascend to the Cruz de Ferro (iron cross) under which pilgrims of old placed a stone which they had carried from home as penance. The walk is uphill but those who want to avoid the ascent can take the bus to near the top. The surrounding terrain is rugged with lovely views. From the top we descend gradually into the lush Bierzo valley and along the way pass through the village of El Aciebo which appears to be lost in a time-warp from the Middle Ages. We continue gradually down to the beautifully restored old town of Molinaseca with its Roman bridge. Our reward at the end of the day is staying at the lovely Parador at Villafranca with its heated pool and spa. Villafranca is one of the most atmospheric towns on the Camino and retains much of its medieval and Renaissance atmosphere. In medieval times if a pilgrim was too frail to continue his journey the same papal indulgences were granted as if he had reached Santiago. Distance 20 km or 12 km (you choose) Dinner included.

Day 4 - OCEBREIRO TO TRIACASTELA From Villafranca our bus takes us up the OCebreiro pass where we visit the hamlet of OCebreiro. Legend says that the Holy Grail (the cup from which Christ drank at the Last Supper) is hidden at OCebreiro (although many other places in the world make the same claim). From there our walk descends into the region of Galicia. Gray and green tones predominate and one hears the "Gallego" language (local dialect). Small villages are strung along this part of the Camino - sometimes just a few houses surrounding a stone church. Fields are fenced with bramble-covered stones and one sees the ruins of castles that once protected pilgrims. We reach the quaint town of Triacastela and then take a side-trip by our private bus to our spectacular accommodation at the town of Monteforte de Lemos. In a monumental complex, comprised of a castle, a monastery and a palace, we find the Parador de Monforte and it is here that we stay the night. The origins of the complex date back to the 9th century but today it is a magnificently restored Parador hotel. Dinner included. Distance 19 km or 12 km (you choose)

Day 5 - SARRIA TO PORTOMARIN Today we return to the Camino and stop to see the majestic monastery of Samos founded in the 6th century. The historic structure is filled with art treasures and has a large cloister with interesting carved stones - most depict religious themes related to the Benedictines but one has an amusing hieroglyphic which, when translated, says (in Latin), "What are you looking at, stupid?" (Monks were not supposed to be looking at the ceiling). From here we continue to km 100 near Sarria on the Camino where we start our walk. It is from here that those who would like to qualify for the Compostela Certificate must walk the full 100 km. Today's walk is on a tranquil trail through rolling countryside alongside jewel-like green fields and between stone fences covered with bramble and wild-flowers. Late in the day we reach Portomarin where we stay at the Pousada de Portomarin with its beautiful views of a lake and green hills. In 1963, during the dictator Franco's era, the old town of Portomarin was moved stone by stone from the valley to a hill to make way for a reservoir. Franco was from Galicia and tried various improvement schemes but with not much success until the revival of the Camino in the 1990's. Portomarin is known for its "queimadas" (a drink made with flaming liqueur, sugar, lemon and coffee beans). You will hear the ghost legend associated with the gueimada but don't worry about scary ghost stories keeping you awake. If you sample a gueimada you are guaranteed to sleep well. Dinner included Distance 19 km or 12 km (you choose)

Day 6 - PORTOMARIN TO PALAS DE REI Leaving Portomarin, the Galician countryside is fragrant with forests of eucalyptus and pine as the trail winds past small farms and remote churches. Our goal is the town of Palas de Rei - a distance of 20 km. For those who don't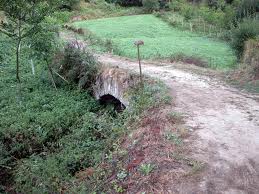 feel like walking 20 km and don't care about obtaining the Compostela certificate it is possible to stop part way and our bus will provide transportation . From Palas de Rei we travel 5 km by coach to our accommodation at the Balneario de Rio Pambre. A "Balneario" is a spa with a natural hot spring pool. This one is located in a lovely natural setting by the River Pambre and offers a perfect way to relax tired muscles after a day of walking.
Dinner included Distance 20 km (or less if you prefer)

Day 7 - PALAS DE REI TO MELIDE This morning we return to Palas de Rei and walk to the town of Melide. This is an easy walk with no hard ascents or descents The history of the village of Melide dates back to the 10th century. In 1320 Melide was granted the privilege of building a castle and village walls but in 1467 the town offended the Archbishop and started a series of fights against his power. Because of this, the walls and the castle were destroyed. For centuries after that, like many villages in Galicia, Melide suffered from emigration of its people to Cuba and Argentina and it is only since the revival of the Camino de Santiago that prosperity has begun to return. Those interested in local legends learn that this stage is dominated by St Julian. It seems that Julian was tricked by the devil into killing his parents. To atone for his sin he ran a pilgrim hospital and the church of San Julian do Camino illustrates the story. But the Camino need not be about saints and legends. In Melide we find shops, bars and restaurants scattered along the narrow streets. Melide is famous for its "pulpo" (octopus cooked in it's own juice in large copper pots and sprinkled with paprika). If octopus doesn't appeal, this region is also known for its wonderful cheeses made from the milk of Galician cows who graze on the lush grass. In the afternoon our coach takes us to a lovely boutique hotel with big gardens Distance 14 km. Dinner included


Day 8 - MELIDE TO ARZUA Today we return to Melide and continue our Camino walk. In this stage, the way is easy with a few gentle climbs and descents alternating with flat stretches. By early afternoon we reach Arzúa, the undisputed town of cheese. One of the better known local cheeses is "tetilla" whose shape is similar to that of a breast and nipple. The story goes that, when the Santiago Cathedral was being rebuilt in Gothic style, stone carvers were hired to carve friezes on the arched doors. One statue that resulted was that of a "well-endowed" bare breasted woman but sight of bare breasts scandalized pious church officials who ordered the statue covered. The population complied but as a sign of rebellion the local cheese-makers started making cheese in the shape of a "tetilla" and the tradition remains today. In every store you will see cheese in the shape of a large breast complete with nipple. You will find it delicious when melted in many Galician recipes.
From Arzua our coach takes us off the Camino to our accommodation at Pazo de Lestrove near Padron. The name Padron means "mooring stone" and legend claims this is where, two thousand years ago, the boat carrying St James' body arrived in Spain and moored in the river. You can visit the local church to see the legendary stone or you may prefer to just enjoy our lovely "pazo" accommodation with its pool set in acres of pretty gardens. Once a palatial country escape for the Bishops of Santiago, the pazo dates back to the 16th century but today it is a four star hotel. Distance 15 km (less if you prefer) Dinner Included.
Day 9 - ARZUA TO RUA/PEDROUZO Today we return to Arzua and continue our walk through pretty Galician countryside. On this stage, the path is easy on small dirt roads between villages, with a few ascents and descents alternating with flat stretches. The countryside is a mix of pretty farmland and eucalyptus forests. We pass fields, oak groves and small hamlets with cafes and bars catering to walkers. One enterprising local brewer has labelled his beer "Pilgrim Beer" in several languages and over a glass of the brew you may meet walkers from many countries. When we reach Pedrouzo our bus picks us up and returns us for another comfortable night at our lovely pazo. Distance 19 km (less if you prefer) Dinner included

Day 10 - PEDROUZO TO SANTIAGO Almost there ! Our final stage is from Pedrouzo into Santiago. As we near our goal, the way leads to the "Mount of Joy" where medieval pilgrims first caught a glimpse of Santiago Cathedral's bell towers. Tradition says that the first one of a group to arrive at the top was nicknamed Leroy (The King). Next comes Lavacolla (translated "lava" to wash and "colla" means "bottom"). Pilgrims stopped here to wash (probably for the first time in months since in the 1100's soap and water were considered unhealthy). We then head for the Cathedral where those who wish can collect their Compostela certificates and we have a quick tour. Our hotel is located nearby in the historic area and we head there for our farewell dinner. Dessert is usually a slice of Camino cake, a delicious almond cake topped with with powdered sugar and the sign of St James' sword. Dinner included. Distance 19 km (less if you prefer)

Day 11 - Tour ends after breakfast. Optional extra nights in Santiago can be booked so you can explore the city's many historic sites and its narrow medieval streets filled with shops and cafes. Galician cuisine is known for its wonderful sea-food and its many varieties of local cheeses. You might wish to take a local bus to Finisterre which was the end of the known world in medieval times. Here, pilgrims picked up a shell as a souvenir before starting the long walk home. You don't have to walk home - there are trains or planes from Santiago to Madrid or buses to Porto.